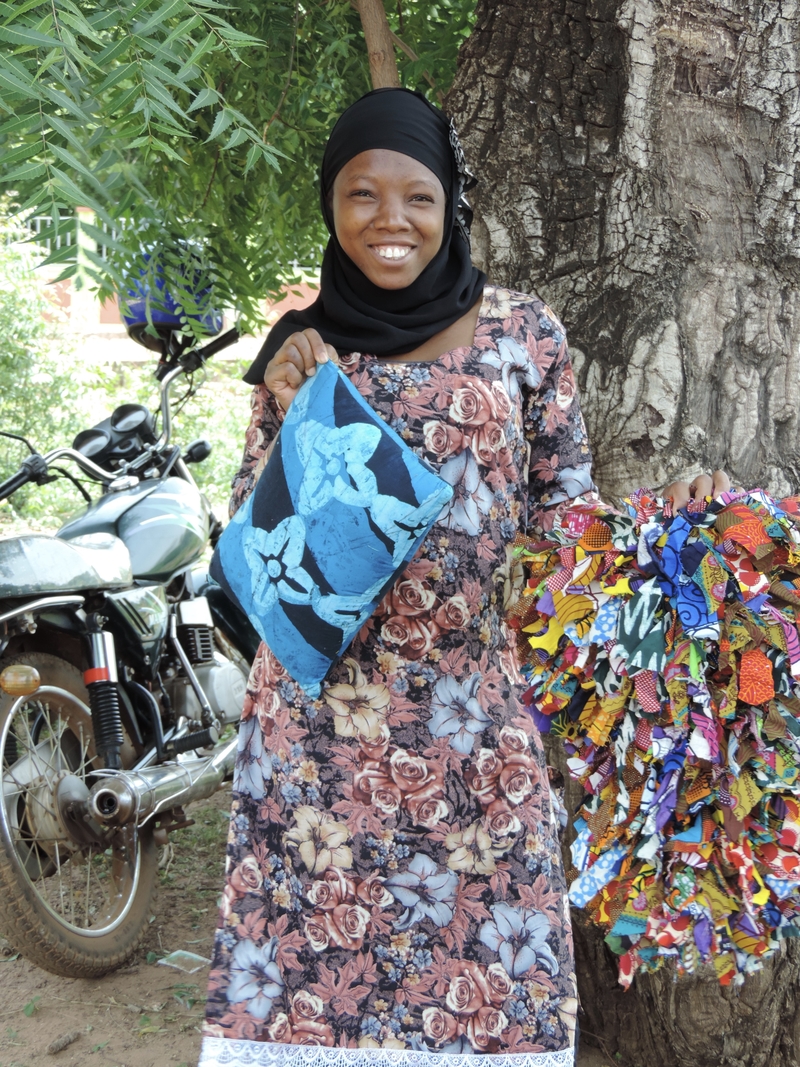 Amida's Story
by Janice Chapman in Entrepreneurship, 15 May 2018, 08:19 AM
"I am determined to create change."– Iddrisu Amida Iddrisu

Amida is a recent EQWIP HUBs Tamale Entrepreneurship Graduate. Born in Tamale, Amida obtained a Higher National Degree in Accounting from Tamale Polytechnic thanks to a University Scholarship granted to her by Create Change, a registered Canadian charity that focuses on empowering girls in Northern Ghana. Upon graduating from Tamale Polytechnic, Amida decided to increase her chances of finding fulfilling employment by joining EQWIP HUBs. "I was thinking that because of my disability, I can't be working in the midst of people." Amida lives with a condition that causes constant body tremors, making seemingly simple tasks such as writing or typing quite challenging. Despite this, Amida has displayed exceptional resilience during her time as an EQWIP HUBs participant. "My life has changed. EQWIP HUBs has shown me love, care, and acceptance. I now feel that I can work in any environment."

Entrepreneurship Training participants are tasked with developing a Business Model Canvas for an original idea. Amida was inspired to counteract the environmental degradation resulting from plastic waste in Tamale. So, the idea for HAMI COMFORT was born: pillows stuffed with discarded water sachets. The up-cycled pillow-making process is straightforward. First, Amida pays local children to gather discarded sachet rubbers from their communities; then, sachets are washed by hand with powder soap. Once they're dried, the sachets are shredded into strips with scissors (the bottle neck of the process), and, finally, the shredded plastic is stuffed into a tailor-sewn pillow case. The result is a surprisingly firm and comfortable pillow! Amida is currently working on developing her business plan to be able to apply for Round 3 of the Youth Innovation Fund. If Amida is granted funds, she plans to purchase a shredder to address the most time-intensive step of her fabrication process. In the meantime, Amida is actively seeking employment related to administration or accounting in Tamale.

For anyone interested in purchasing one of Amida's upcycled pillows, see below for her contact:
Email: Iddrisuamida1@gmail.com
Mobile/WhatsApp (Primary): +233 50 666 6595
Mobile/WhatsApp (Secondary): +233 26 050 4995

Story was written by past Canadian volunteer, Jessica O'Kane.
About Me
I'm a recent graduate from the University of Ottawa (specialized in Human Resources), still living life in Canada's gorgeous capital. I grew up on a farm just outside of Guelph (although by no means am I a farmer), and I have the cutest hedgehog named Winifred. I love to travel (finally saw the Great Pyramids of Giza last year!), boulder (rock climb without ropes), and empower myself and others.