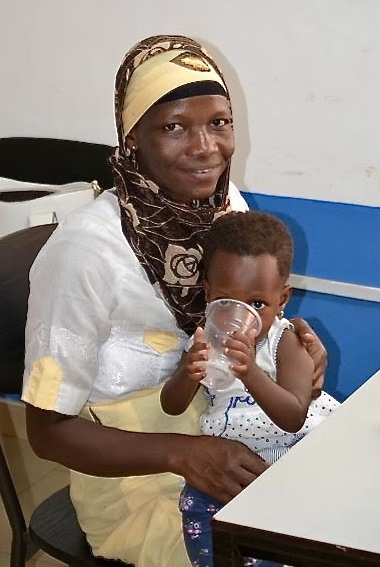 Spotlight on Youth - Fuseini Asia
by Michael Southcott, 20 July 2017, 06:40 AM
Fuseini Asia was born, raised, and educated in Tamale. As a young woman with a keen eye for fashion, she followed her desire to specialize in Fashion and Design at Tamale Polytechnic. It was here where she gained both theoretical and practical knowledge in becoming a professional seamstress, allowing her formal training to set her apart from others.

Asia's goal is to one day open her own seamstress centre, where young women can be formally trained in sewing and design. However, the financial means to fulfill this goal while supporting her two young children was difficult to attain immediately after school. Instead, she joined her sister's business, Amaacre Collections, where she could continue her profession in sewing while also maintaining employment and supporting her family.

Asia was also able to further her schooling, completing her Diploma in Basic Education with the financial support from a local NGO. Realizing her skills needed to be more tangible in order to enhance her sister's shop and to one day open her own centre, she applied for training at EQWIP HUBs. "The local NGO was just a supportive tool for me to be able to get back to the classroom and meet my educational targets, but EQWIP HUBs offered important knowledge. I thought to myself when applying for EQWIP HUBs, this is a chance for you. EQWIP is there to help youth empower themselves, so why not apply?"

Asia progressed through Foundational and Employability training in an impressive manner, accessing all of the Hub's services and working with Canadian volunteers in a number of areas. "Before I walked into the Hub, I was part of the people they term BBC, 'Born Before Computers'. Now I have an email address, I can send texts, and attach documents." Asia also increased her entrepreneurship and marketing capacities through the Hubs' Drop-In Services. She now has incorporated bead production into her sister's shop where she distributes necklaces and bundles, advertising the business's products and services. Her communications skills have grown and through group work and leadership training, she has the confidence to speak her mind and voice her opinions.

Having time and space to focus during her training at EQWIP HUBs was a major benefit for Asia. "After being here with my kids and seeing the way you treated them, I now have it in mind when I get my centre that I should create a small space for the children to be entertained and learn so they won't disturb their mothers." As a young mother of two, balancing work and training has been a difficult task, but Asia never missed a session or an appointment.

Asia is a determined young woman. She has engaged all aspects of the Hub; from training, to drop-in services, to implementing lessons learned into her work. She now looks forward to completing Entrepreneurship Training and stepping closer to her dream of developing her sewing centre.